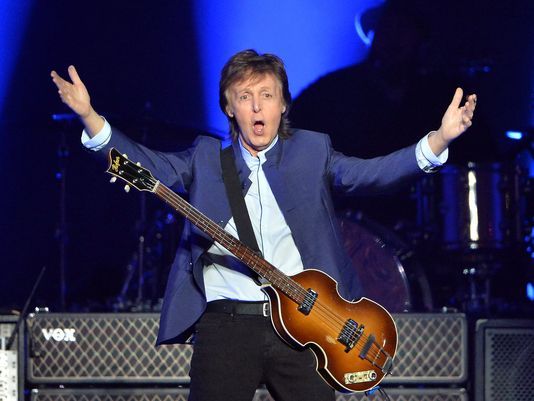 ¡El día llegó!
Una vez más, Paul McCartney se presentará en la Ciudad de México y promete ser un concierto magnífico.
Porque asistir a un concierto de MaCa es acudir a una cita con la historia. Seas beatlemaniaco de cualquier edad o no, es una experiencia que vale la pena vivir y que seguramente te dejará con un buen sabor de boca.
Además de Sir Paul, será una delicia ver a los músicos que lo acompañan, todos llevan una década o más trabajando con McCartney y todos son de un extraordinario nivel artístico (no faltaba más).
Así, junto al ex Beatle con su clásico bajo Hofner de violín, disfrutaremos de los guitarristas Rusty Anderson y Brian Ray, el tecladista Paul "Wix" Wickens y el portentoso baterista Abe Laboriel Jr. (Sí, sobrino de nuestro Johnny Laboriel).
A continuación, te dejamos la lista de canciones (puede haber una o dos sorpresas) de las diversas etapas de su carrera, desde su primera banda, The Quarrymen, hasta The Beatles, Wings y su etapa solista, que se escucharán la noche de este sábado en el Estadio Azteca en la voz del gran Sir Paul McCartney.
https://www.youtube.com/watch?v=90qQsRSpZ74
A Hard Day's Night (The Beatles)
Junior's Farm (Wings)
Can't Buy Me Love (The Beatles)
Jet (Wings)
All My Loving (The Beatles)
Let Me Roll It (Wings) (con Foxey Lady de Jimi Hendrix)
I've Got a Feeling (The Beatles)
My Valentine
Nineteen Hundred and Eighty-Five (Wings)
Maybe I'm Amazed
In Spite of All the Danger (The Quarrymen)
You Won't See Me (The Beatles)
Love Me Do (The Beatles)
And I Love Her (The Beatles)
Blackbird (The Beatles)
We Can Work It Out (The Beatles)
Here Today
Queenie Eye
New
Lady Madonna (The Beatles)
FourFiveSeconds (Rihanna, Kanye West y Paul McCartney cover)
Eleanor Rigby (The Beatles)
I Wanna Be Your Man (The Beatles)
Being for the Benefit of Mr. Kite! (The Beatles)
Something (The Beatles)
A Day in the Life (The Beatles, con "Give Peace a Chance" de Lennon)
Ob-La-Di, Ob-La-Da (The Beatles)
Band on the Run (Wings)
Back in the U.S.S.R. (The Beatles)
Let It Be (The Beatles)
Live and Let Die (Wings)
Hey Jude (The Beatles)
Encore:
Yesterday (The Beatles)
Pepper's Lonely Hearts Club Band (Reprise) (The Beatles)
Helter Skelter (The Beatles)
Birthday (The Beatles)
Golden Slumbers (The Beatles)
Carry That Weight (The Beatles)
The End (The Beatles)