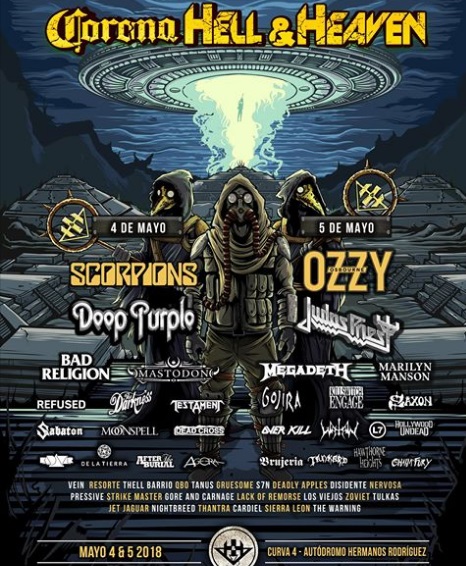 El festival de rock y metal más grande de América Latina que se celebrará el 4 y 5 de mayo de 2018 en el Autódromo Hermanos Rodríguez, ya tiene completo su cartel.
Con más de 45 presentaciones nacionales e internacionales, aquí te dejamos la lista completa del Corona Hell & Heaven, que durante dos días hará historia y marcará a las nuevas generaciones:
Ozzy Osbourne, Scorpions, Deep Purple, Judas Priest, Megadeth, Marilyn Manson, Bad Religion, Mastodon, Gojira, Killswitch Engage, Saxon, Refused, The Darkness, Testament, Dead Cross, Overkill, Watain, L7, Kadavar, Hawthorne Heights, The Charm The Fury, Hollywood Undead, Brujería, Tankard, Vein, After The Burial, Resorte, Thell Barrio, QBO, Tanus, Disidente, S7N, Deadly Apples, Nervosa, Pressive, Strike Master, Gore and Carnage, Lack of Remorse, Los Viejos, Zoviet, Tulkas, Jet Jaguar, Gruesome, Agora, De La Tierra  Nightbreed, Thantra, Cardiel, Sierra León y The Warning.
Con una curaduría que rinde honores a los grandes clásicos mientras continúa abriendo espacios al talento joven, Corona Hell & Heaven complacerá a los headbangers más exigentes, trascendiendo subgéneros y generaciones, alcanzando una variedad y balance que lo colocan a la altura de cualquier festival internacional de su tipo.