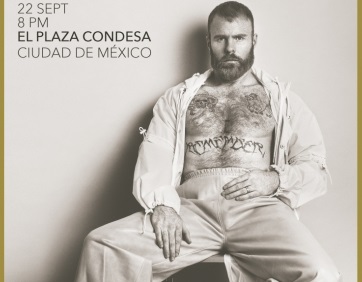 Hercules and Love Affair está de regreso con Omnion, su cuarta producción discográfica. Es por ello que la banda ya prepara una especial presentación en El Plaza Condesa el 22 de septiembre.
Andy Butler, Mark Pistel, Gustaph y Rouge Mary, irrumpen en la escena musical actual con Omnion, álbum que incluye 11 nuevos temas entre los cuales destaca el sencillo homónimo por su colaboración con Sharon Van Etten.
También destacan temas como Controller con Faris Badwan de The Horrors, Running, My Curse And Cure o Fools Wear Crowns, interpretada por el propio Andy.
Hercules and Love Affair es un grupo musical estadunidense que mezcla la música disco, el dance y el punk. La agrupación nació en la ciudad de Nueva York en 2004 como un proyecto del DJ Andy Butler, al cual se integraron Nomi Ruiz, Kim Ann Foxman y Anohni.  Después de firmar con la DFA Records, editaron su álbum debut autotitulado en 2008, acompañado del sencillo Blind, uno de los más exitosos de su carrera.
Los boletos para ver a Hercules and Love Affair estarán disponibles en venta general a partir del viernes de este 20 de julio.